2nd Year Pairing Scheme
2nd Year Chemistry Pairing Scheme 2024 | Punjab Boards
12th Class Chemistry Pairing Scheme for Punjab Boards
Are you looking for the 2nd Year Chemistry Pairing Scheme 2024 session? You are on the right page. Here we've uploaded the pairing scheme of 12th class Chemistry that is equally beneficial for all boards of Punjab. Including Lahore Board, Multan Board, Gujranwala Board, Sahiwal Board, Sargodha Board, DG Khan Board, Faisalabad Board and BISE Jammu Kashmir. Download the 2nd year paper scheme 2024 or read it online.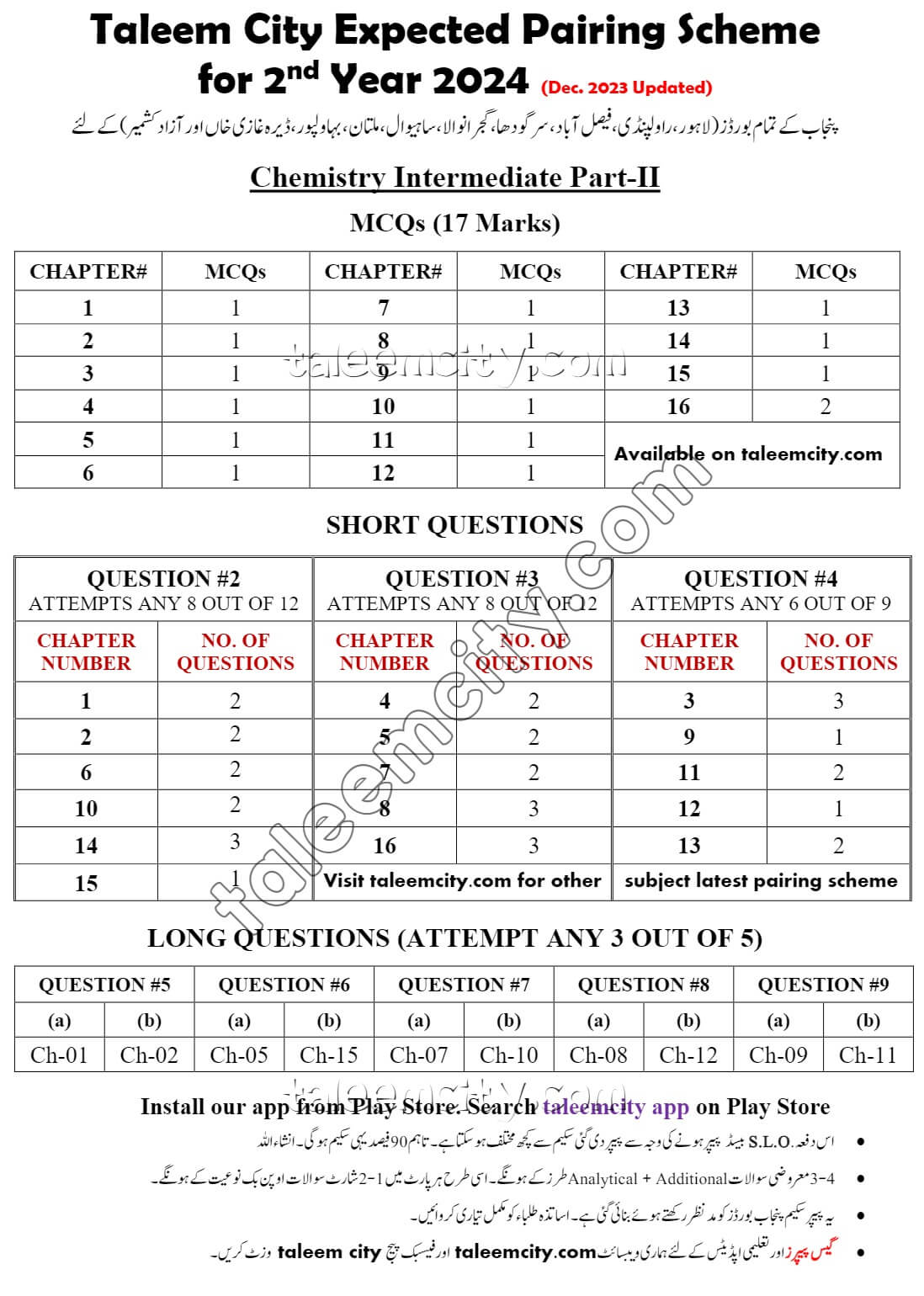 2nd Year Chemistry Pairing Scheme 2024 Punjab Boards
The aim of the pairing scheme or paper scheme is to support students. They understand the pattern of the question paper through this and are therefore able to concentrate on the most important questions and chapters. So, here is the 2nd Year Chemistry Pairing Scheme 2024. This pairing scheme is according to the new paper scheme of the Punjab Boards Chairman Committee.
As students will be taking exams at the soonest possible time, it would be a good idea to prepare with the 12th class Chemistry paper pairing scheme 2024. For students, pairing schemes are useful because they help identify the important topics from which most questions will be drawn. This paper scheme focuses a student's attention on specific topics instead of the whole course, which aids them in learning effectively.
Like Our Facebook Page For Educational Updates Taleem City
Despite the best efforts of the authors. Errors may inevitably appear. So, any suggestions for its further improvement are however invited. If you have any queries regarding this, simply comment here. We will try to answer you in a very short period.
And, if you like our hard work then also tell your friends, so they can also get higher marks in the 2nd-year exam. If you have a query in your mind, then comment it below we'll surely answer it. Share it because "Sharing is Caring".