2nd Year Online MCQs Test for Exams Preparation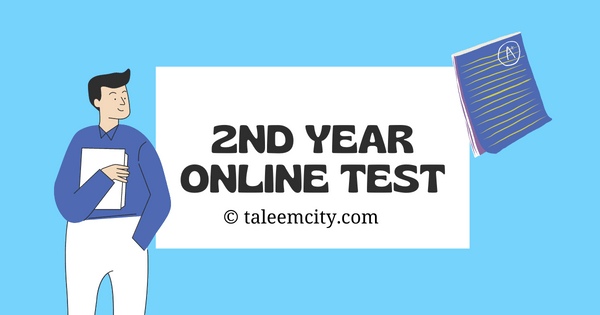 The importance of exams in the life of a student cannot be overstated. Their importance can change the lives of students, as they play an important role in their development. Upon completing the 12th grade, you will earn your bachelor's degree. If a student scored high enough marks in 11th, he or she will try to maintain those grades in 12th, while if they didn't, they will try to improve them.
Ultimately, your success in class 12th exams will determine your future. Depending on your intermediate results, you may be able to get into the best universities in the country. That is the reason that we have created 2nd year of online MCQs test for better exam Preparation. Using online tests, students can assess how much they have learned as they schedule chapter-wise learning routines. In order to help you prepare better for your 2nd-year exam, we've created online MCQ tests for you.
We are using PTB's book and previous year's papers of Punjab Boards for these 2nd year online MCQ tests. Approximately 20 marks are allocated to MCQs on the annual paper. There is no option to skip any question in this part of the paper, which makes it challenging. So, it is very important to prepare for this section and get good marks in it. Click on the subject to start its test.
| | | |
| --- | --- | --- |
| Coming Soon!!! | | Coming Soon!!! |
| Coming Soon!!! | Coming Soon!!! | Coming Soon!!! |
| | | |
2nd Year Online MCQs Test for Punjab Board Students
We are pleased to inform you that all online exams for class 12 are available on our website. This is a great way to study and get high scores on these exams. In order to ensure that our students achieve perfect scores, we conduct these tests online. Before taking the exam, try all online tests!
Multiple choice questions are included in these online quizzes on the key topics in the book without feeling out of context. Because these online tests are relevant to the course, easily understandable, and focus on important topics, they are crucial for students to take. Trust me, after taking just one of these quizzes, you will be hooked.
Like Our Facebook Page For Educational Updates Taleem City
These 2nd Year Online MCQs Test according to the syllabus of all Punjab Boards. Other boards other than Punjab do not follow these class 12 online tests. These Punjab boards are Gujranwala Board, Lahore Board, Faisalabad Board, Multan Board, Rawalpindi Board, Bahawalpur Board Sargodha Board, DG Khan Board, and Sahiwal Board.
Although the authors tried their best. It is sometimes unavoidable to make errors. Nevertheless, any suggestions for improvement would be appreciated. In case of questions, please leave a comment. I will respond to your question as soon as possible. Let your friends know about our hard work so they can do well in their 12th class exams. Let's spread the word because sharing is caring.