Are you looking for the 2nd Year English Pairing Scheme 2023? You are on the right page. Here we've uploaded the pairing scheme of 12th class English that is equally beneficial for all boards of Punjab. Including BISE Lahore, BISE Multan, BISE Gujranwala, BISE Sahiwal, BISE Sargodha, BISE DG Khan, BISE Faisalabad, BISE Rawalpindi, and BISE Jammu Kashmir.
Detailed information regarding the subjective and objective parts of the first-year English paper pairing scheme will be contained in the scheme. Through this post, you will know how many MCQs and Questions/Answers will be asked and what the mark division will be. Additionally, we will provide detailed grammar questions. It will therefore be possible to obtain information about the 2nd Year English Paper Pattern 2023.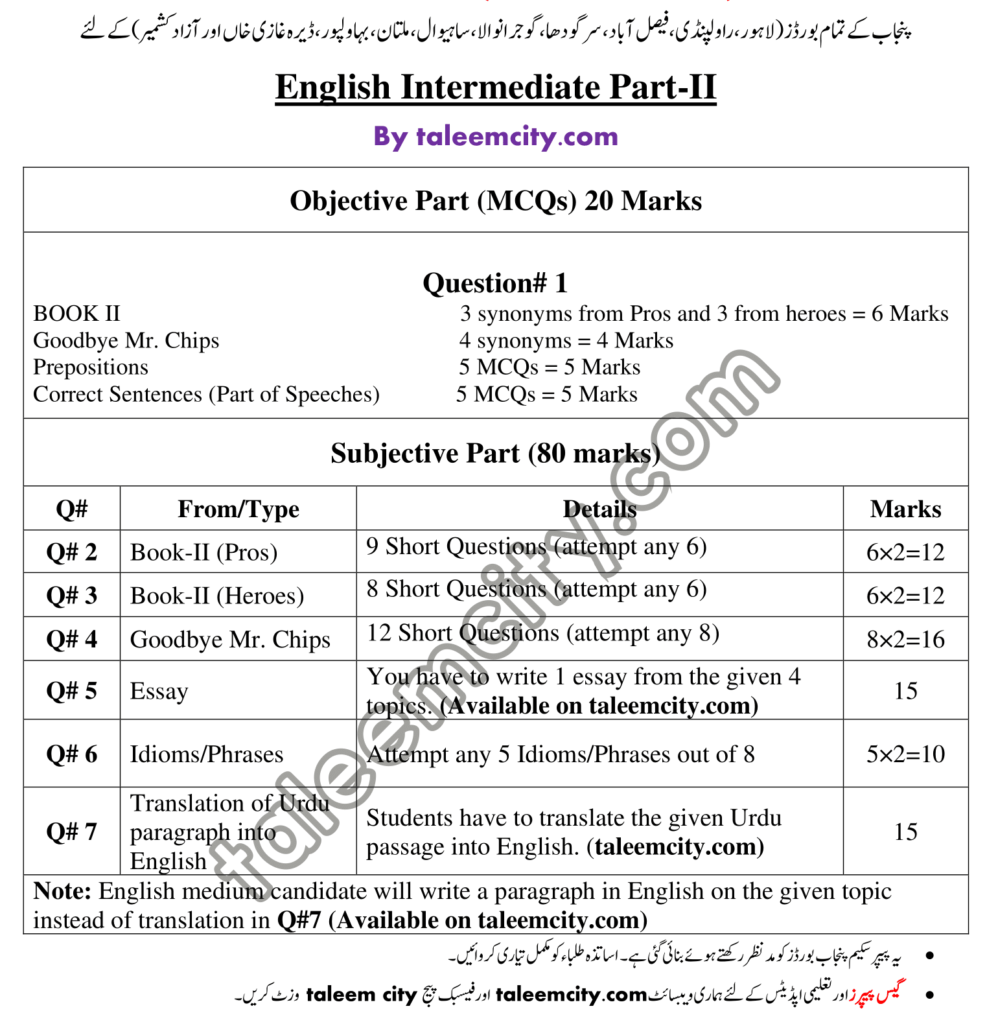 English Pairing Scheme 2nd Year 2023
The English paper pattern must be kept in mind when students prepare for their board exams. The paper scheme for English is often seen as a difficult subject, so students should review it once to prepare better. The use of a paper scheme will assist students in attempting the exam more efficiently. This scheme enables them to comprehend the paper pattern as well as focus on the most important questions in the book. For this reason, we present the following pairing scheme for First-Year English 2023.
 In order to prepare for their annual exams, students should obtain a copy of the 2nd Year pairing scheme 2023 before the beginning of the year. Immediately before the final examinations, the Punjab board uploads these pairing schemes for the 12th class of 2023. Our website contains each paper scheme Punjab board for every subject, so you can explore it as you wish. This scheme also tells about the question type and detail of the questions.
Like Our Facebook Page For Educational Updates Taleem City
Even though the authors tried their best. There is always the possibility of errors. However, any suggestions for improving it are welcome. You can comment here if you have any questions about this. Hopefully, we will be able to respond to you within a short time frame.
Tell your friends about our hard work if you like it, so they will also be able to get better marks on the class 12 exam. I am sure we will be able to answer your question if you comment below. "Sharing is caring", so please share it.