2nd Year Online Test
2nd Year Chemistry Online MCQs Test | Quiz
12st Class Chemistry Online MCQs Test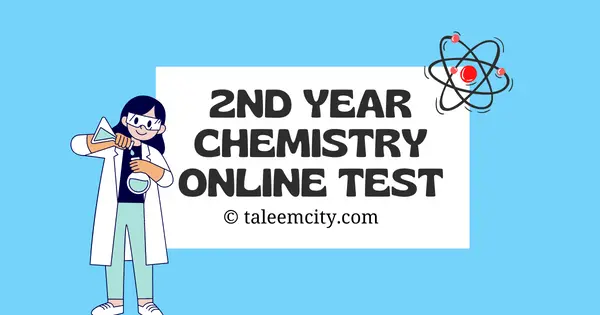 In the 2nd Year Chemistry paper, approximately 20 marks are allocated to MCQs. There is no option to skip any question in this part of the paper, which makes this part challenging. As a result, we have created an online Chemistry MCQ test for students enrolled in 12th grade. The purpose of this test is to help students check the level of their preparation for the exam. Additionally, they can improve their knowledge by taking this 2nd year chemistry online MCQs Test.
Chemistry is the study of matter. In this science, substances and their compounds are studied in terms of their composition, structure, properties, and behaviors. Chemistry also studies chemical bonds and reactions, as well as how to control them. Throughout medicine, industry, and everyday life, chemistry plays an important role. The study of chemistry is often described as the study of change.
2nd Year Chemistry Online Test for Punjab Board Students
Organic and inorganic chemistry are two of the most important branches of chemistry. A chemical compound that consists of inorganic elements is classified as inorganic, while a living compound is categorized as organic. There are many more fields of study in organic chemistry than in inorganic chemistry. FSc 2nd-year chemistry students study both inorganic and organic chemistry. So take these 2nd year chemistry online MCQ tests for better final exam preparation.
This online quiz contains multiple-choice questions related to the key topics in the book without feeling out of context. Students should take these online tests because they are relevant to the course, easy to understand, and focus on important topics. It will only take you a few minutes to become addicted after taking the first quiz.
Like Our Facebook Page For Educational Updates Taleem City
This Chemistry Online Test for the 12th Class has been prepared in accordance with the syllabus of Punjab Boards. Other boards do not use these tests. These Punjab boards are Gujranwala Board, Lahore Board, Faisalabad Board, Multan Board, Rawalpindi Board, Bahawalpur Board Sargodha Board, DG Khan Board, and Sahiwal Board.
Our goal is to assist you in any way we can by providing you with these high-quality educational resources. Even though the authors tried their best. Errors can always happen. Regardless, any suggestions for improving the site would be greatly appreciated. If you have any questions, please comment below. Please share our work with your friends to help them score higher in the FSc final exam. It is important to share it because "Sharing is Caring."