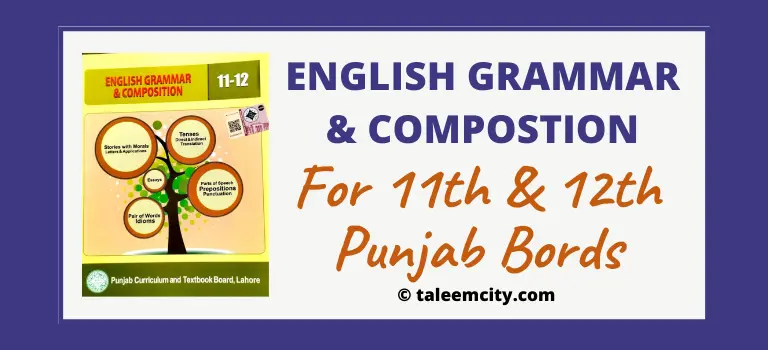 Grammar and composition is important subjects in 11th and 12th grade that help students develop their communication skills and writing abilities. In general, the curriculum emphasizes grammar, vocabulary, and composition skills. A new edition of this book has been published by the PTB for session 2023-24. It will be implemented as of the end of the current session. It is possible to download a PDF version of English Grammar Composition for FA/FSC/ICS Classes.
Throughout these grades, students learn various grammatical rules in order to understand and apply the English language. Students will learn tenses, parts of speech (nouns, verbs, adjectives, adverbs, etc. ), sentence structure, and punctuation. Using these concepts, students can create clear, grammatically correct sentences.
1st Year English Grammar & Composition PDF Download
Writing effectively is the focus of the composition. In addition to learning how to structure essays, letters, reports, and creative pieces, students are taught how to write them. Their learning includes thesis statements, topic sentences, supporting details, and conclusions. In addition, they are encouraged to develop their own writing style and voice.
Reading comprehension exercises are often included in the curriculum to improve comprehension and critical thinking abilities. Language and context are explored through the analysis and interpretation of various texts, such as literature and articles.
2nd Year English Grammar & Composition PDF Download
Students' vocabulary is also broadened by English Grammar and Composition. The students study new words, their meanings, and their usage in context. Effective communication and writing require a rich vocabulary.
Additionally, writing assignments and creative projects encourage creativity and self-expression. In this way, students can develop their writing skills further and explore their imaginations.
As a result, English Grammar and Composition for 1st and 2nd Years equips students with the language skills necessary for effective communication and writing. In addition to providing them with the tools they need for academic success, it also prepares them for effective communication in real-world situations.
Like us on Facebook for educational updates Taleem City
We hope to make your studying process easier by providing you with quality educational resources. Please let us know if the Tarjuma tul Quran book for 1st Year contains any errors. By sharing our efforts with your friends, you can also help them achieve higher grades. Please feel free to ask any questions you may have in the comments. "Sharing is caring" because it is selfless.