2nd Year Books
2nd Year Pak Study Book PDF Punjab Textbook Board
12th Class Pakistan Studies Pdf Download
Do you want to download the latest 2nd year Pak Study book in pdf format? If you belong to that grade level, you can download many chapters from the Punjab Curriculum and Textbook Board biology book. It may be impossible to find the Pakistan Studies new book you need at the bookstore; therefore, this website provides it. Class 12 Pak Studies PDF Book is available for download. The Punjab Textbook Board 12th Class Pak Study New Book PDF can be downloaded below.
 It is advisable to read the textbooks that are provided to you in your syllabus before appearing in the 12th class examination. However, you cannot carry your hard copy everywhere, so you can't do it constantly. It is easy to carry a soft copy (in the form of a PDF) with you on your smartphone or laptop when you are somewhere else where you can't bring your paper book. To avoid these situations in the future, download this book. There is no need to buy this Pakistan studies book chapter by chapter for the 12th class. You can read or download this Pak study book 2nd year.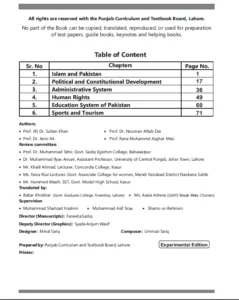 View/Read Online Download E/M Book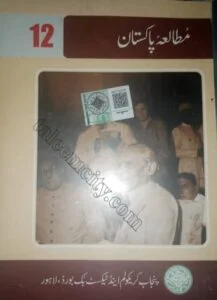 Download U/M Book
2nd Year Pak Study Book 2022 PTB
When preparing for exams, students who wish to achieve excellent results should use the Pak study textbook provided by the textbook board. Looking at the syllabus in the textbook will provide you with an idea of what your paper will be like. Using your Pak-Studies book as a guide, you can figure out all the questions for your 12th class exam. Identify the most relevant questions in your 2nd Year Pak Study Book 2022 in Urdu By Punjab Text Book Board and write them down.
To prepare for them, you must know the concept supporting their purpose. A large number of students cram their books word-for-word to achieve higher marks, which is highly detrimental to their future. Cramming doesn't help you learn anything. So you should pay attention to the classroom lectures carefully to gain a thorough understanding of the 2nd year pak study book in urdu.
This new Pak study book for the 12th class covers a number of important topics. The first chapter discusses Islam and Pakistan, while the second chapter discusses the development of Pakistan's political and constitutional systems. Further, you will learn about the Pakistani administrative system in chapter 3 and about human rights in chapter 4. The fifth and sixth chapters in this book are about Pakistan's education system as well as its sports and tourism industry. This Pakistan studies book 2nd year in English contains all these chapters.
Like us on Facebook for educational updates Taleem City
It is our goal to provide you with quality educational resources to make your studying process easier. In case there is an error in the 12th Class Pak Study New Book, please let us know. Share our efforts with your friends so they can also achieve higher grades at inter. If you have any questions, please leave them in the comments. Taking the initiative to share is selfless, so "sharing is caring.".