1st Year Books
1st Year Biology Book PDF Download Punjab Textbook Board
11th Class Biology Book Pdf Download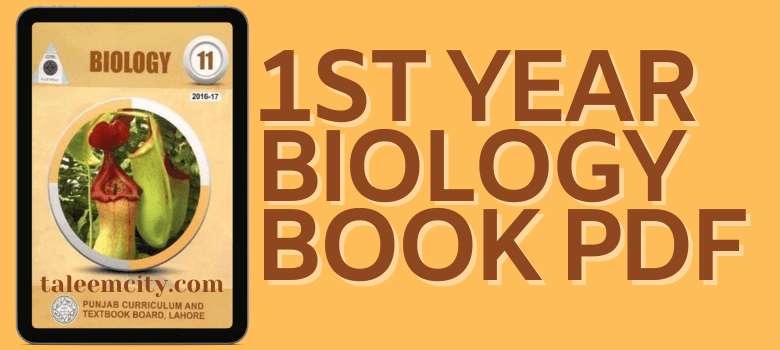 Punjab Textbook Board's 1st Year Biology Book PDF covers all relevant topics in the field of biology. It follows a structured and engaging approach to help students learn the fundamentals of biology.
A variety of topics are covered in the book, such as cell biology, genetics, evolution, and ecology. In this book, students learn about complex biological processes in a clear and concise manner. Visual learning is enhanced by the incorporation of diagrams, illustrations, and examples throughout the book.
Biology Book for Class 11 Punjab Board
This class 11 biology book includes practical activities and experiments as one of its notable features. Practical exercises help students develop their scientific skills and provide hands-on experience. Additionally, review questions, summaries, and practice exercises are provided at the end of each chapter to reinforce what students have learned.
Moreover, the Punjab Textbook Board's biology 1st-year book follows the prescribed syllabus and curriculum, ensuring students are well-prepared for their exams. Using the latest advancements in biological research, the book is written by experienced and qualified authors.
11th Class Biology PDF Book PTB
A PDF version of the Punjab Textbook Board's publications is available in addition to the printed version. Using the digital form of the biology book, students can access it conveniently on smartphones, tablets, and laptops. Learning is easier and more convenient for students when they can access and study PDF books anytime and anywhere.
1st Year Biology Book PDF is a valuable resource since it covers the subject matter comprehensively. In addition to setting a solid foundation for further studies in the field, it equips students with the knowledge and skills necessary for a successful career in biology. With PDF books, students can access their textbooks digitally, further enhancing the learning experience.
Like us on Facebook for educational updates Taleem City
Our goal is to make your studying process easier by providing you with quality educational resources. We would appreciate it if you would let us know if there are any errors in the 11th Class Biology Book. Your friends will also be able to achieve higher grades in their inter-exams if they know about our efforts. If you have any questions, please leave them in the comments. It is selfless to share, so it is caring to share.