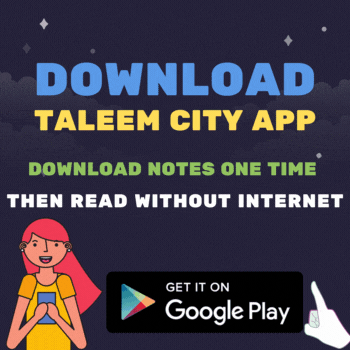 Students can discover the most up-to-date 10th Class Pak Study Notes pdf on the internet, but not the most trustworthy ones. There are usually questions taken from textbook exercises in Pakistan studies papers, but sometimes there are questions from chapters as well. A little bit of difficulty is involved in learning the entire chapter as you can not memorize each and every word. That's the reason we upload 10th class Pak studies notes in PDF that is easy to understand and memorize.
If your mobile device does not support PDFs, we have uploaded them online for you to access. It will be especially useful for students who don't have large enough screens on their laptops or mobile devices to study. Please feel free to download and print our Pakistan Studies notes so that you may study without having to strain your eyes.
10th Class Pakistan Studies New Syllabus Notes
Before we continue to the notes section, I'd like to give you a quick overview of what each note entails. Solved MCQs, Short Answer Questions, and Solved Exercises in Urdu are included in these notes. We're convinced that with all this assistance, you'll be able to learn all of the ideas and pass the exams. 10th Class Pak Study Notes in Urdu.
Chapter 5 - History of Pakistan II
Chapter 6 - Pakistan in World Affairs
Chapter 7 - Economic Development
Chapter 8 - Society & Culture of Pakistan
10th Class Pak Study Notes for All Chapters
In line with the new paper pattern of all boards of intermediate and secondary education Lahore, Multan, Sahiwal, Faisalabad, Bahawalpur, Gujranwala, DG Khan, Sargodha, Rawalpindi. We prepared these 10th Class Pak study notes with the expertise of well-known and qualified teachers. Here are chapter details of 10th class Mutalia Pakistan Notes:
In this chapter of the Pakistanstan Studies textbook for class 10, you will learn about Pakistan's history. This chapter will be interesting to you if you pay attention and enjoy reading it. Pakistan's identity is shaped by its international relationships. You'll learn about our foreign relations, international relations, and territorial disputes in chapter 6.
Chapter 7 explores our five-year economic plans in various eras. In addition, the chapter examines how the economy has evolved. In the last chapter, the author describes the diverse cultures, attires, languages, and values of the country that inspire students. Chapter 8 is about the society and culture of Pakistan. It tells us about different cultures and civilizations that prevail in Pakistan.
Like Our Facebook Page For Educational Updates Taleem City
It was important to make these notes as effective as possible. Still, mistakes can still happen no matter how careful you are. Please let us know if you happen to see them below in a comment. We'd like to hear your ideas and suggestions on how to improve the study materials. We hope all members of the community will benefit from our efforts, so we encourage you to share them with others, as "sharing is caring".