10th Class Books
10th Class Pak Study Book PDF | Punjab Textbook
Pakistan Studies Book 10th Class in Urdu PDF
Our team knows you're searching the internet for the updated 10th Class Pak Study Book 2022 PDF. This computer book is available in both Urdu and English so you can access it in any language you choose. For our users, we have scanned the new 10th Pakistan studies book and uploaded it to our website. The Punjab textbook board offers two versions of the Pak Study textbook for the 10th grade. Alternatively, you can download the book or view it online on this page.
To prepare for the 10th class examination, it's a helpful idea to read the textbooks available in your syllabus. The hard copy can't be carried everywhere, so you can't do it all the time. When you're somewhere else where you can't bring your paper book, you can carry a soft copy (in the form of a PDF) on your smartphone or laptop. Download this book to prevent these situations from occurring again. It is not necessary to purchase a chapter-by-chapter copy of this Pak studies class 10 book new edition. It is available for download or reading.
Before you prepare for them, you must understand their purpose. Many students attempt to memorize their books word-for-word in order to achieve higher grades, which has severe consequences for their careers. You won't learn anything by cramming. In order to gain a thorough understanding of the 10th Class Pak study book in Urdu, you need to pay attention carefully during the classroom lectures.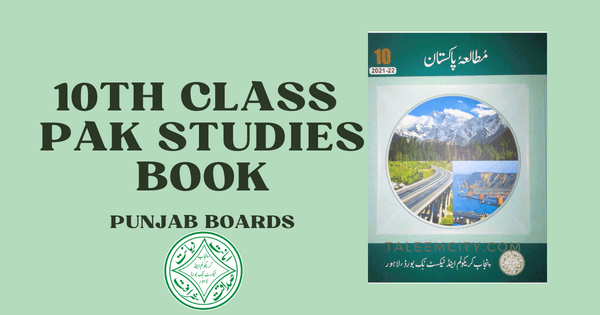 10th Class Pak Study New Book Urdu & English Medium
There are four lessons in the Pakistan Studies book pdf 10th class. We will examine each chapter in turn. In these chapters described in the book, students will be able to assess the depth of their understanding of Pak studies.
Pakistan's history is the focus of this chapter in the Pakistanstan Studies textbook for class 10. Taking the time to read this chapter and paying attention will make it more interesting. As a result of its international relationships, Pakistan's identity is shaped. The sixth chapter will discuss our foreign relations, international relations, and territorial disputes.
As part of Chapter 7, we explore various eras of our five-year economic plans. Additionally, the chapter examines the evolution of the economy. In the last chapter, the author describes the diverse cultures, attires, languages, and values of the country that inspire students. Chapter 8 is about the society and culture of Pakistan. Throughout the book, we learn about different cultures and civilizations that are prevalent in Pakistan.
Like us on Facebook for educational updates Taleem City
You will benefit from the quality educational resources that we provide. Please let us know if there are any errors in the 10th Class Pak Study Book PDF. We want to make sure that our friends achieve higher grades in their matriculation exams, so let them know about our efforts. Please feel free to ask any questions in the comments section. It is selfless to give, so it is caring to share.