9th Class Books
9th Class Computer Book PDF | Punjab Textbook Board
9th Class Computer New Book Urdu & English Medium
On the web, you must be seeking the 9th Class Computer Book New Syllabus. Our online computer book is available in both Urdu and English, so we have the solution to your problem. We scanned the new computer science book and uploaded it to our website for users. The Punjab textbook board offers two versions of the Computer Science book for the 9th class. Here you can view and download both versions of this book, you can read it online or download it.
There is no limit to how many times you can download the book chapters, you can download each chapter as many times as you want. You need to make sure that the books are all in good condition. We recommend the pdf version since it is very clear and easy to read. Download it now!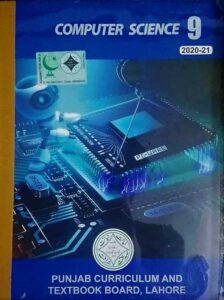 Download Urdu/M
9th Class Computer Book Punjab Boards
This book consists of five lessons. Let's take a closer look at each chapter in turn. Students can assess their understanding of computer science by reviewing these chapters in the book.
Unit-1 Problem Solving
The title of this chapter makes it clear that it's about solving problems. You will learn about what is problem, how to identify it, and how to solve it. You will also learn about algorithms and flow charts in this chapter.
Unit-2 Binary System
This chapter introduces you to the binary system. At first, you will get familiar with number systems and conversion of the number system. In the next topic, memory & data storage and Boolean Algebra will be discussed.
Unit-3 Networks
In this chapter, you will gain a basic understanding of computer networks. It will cover network structure, basic data communication, network models, IP addressing and routing.
Unit-4 Data and Privacy
After reading the chapter title, you will become familiar with data and privacy issues. Importance of data, ethical issues with data, encryption, and dycrption.
Unit-5 Designing Website
As you read this chapter name, you will become familiar with HTML, which is used to create web pages. You will learn about text editors, HTML syntax, tags, and attributes. You will create some stunning web pages with help of the learned data.
Like us on Facebook for educational updates Taleem City
Our quality educational resources will be of benefit to you. Please inform us if there are any errors in the 9th Class Computer Book PDF. We want to ensure that our friends get better grades in their matriculation exams, so let them know our efforts. Leave a comment if you have any questions. It is selfless to give, so it is caring to share.