Are you interested in learning more about the 1st Year Tarjuma Tul Quran Pairing Scheme 2023? This is the place where you'll find what you're searching for. There is no need to be familiar with pairing schemes before. You can find the latest pairing schemes uploaded by the Board in this section. At each grade level, pairing/paper schemes are available for each subject. We are pleased to present the 1st Year Tarjuma Tul Quran Paper Pattern 2023, which is equally beneficial to all Punjab boards.
As of now, there are nine Punjab Boards operating: the BISE Lahore, the BISE Multan, the BISE Gujranwala, the BISE Sahiwal, the BISE Sargodha, the BISE DG Khan, the BISE Faisalabad, and the BISE Jammu Kashmir. The class 11 Tarjuma Tul Quran Paper Scheme 2023 can be downloaded from this website in high-quality pdf format. When you take the exam with its assistance, you will achieve high grades. Additionally, we have added the paper pattern to the new syllabus.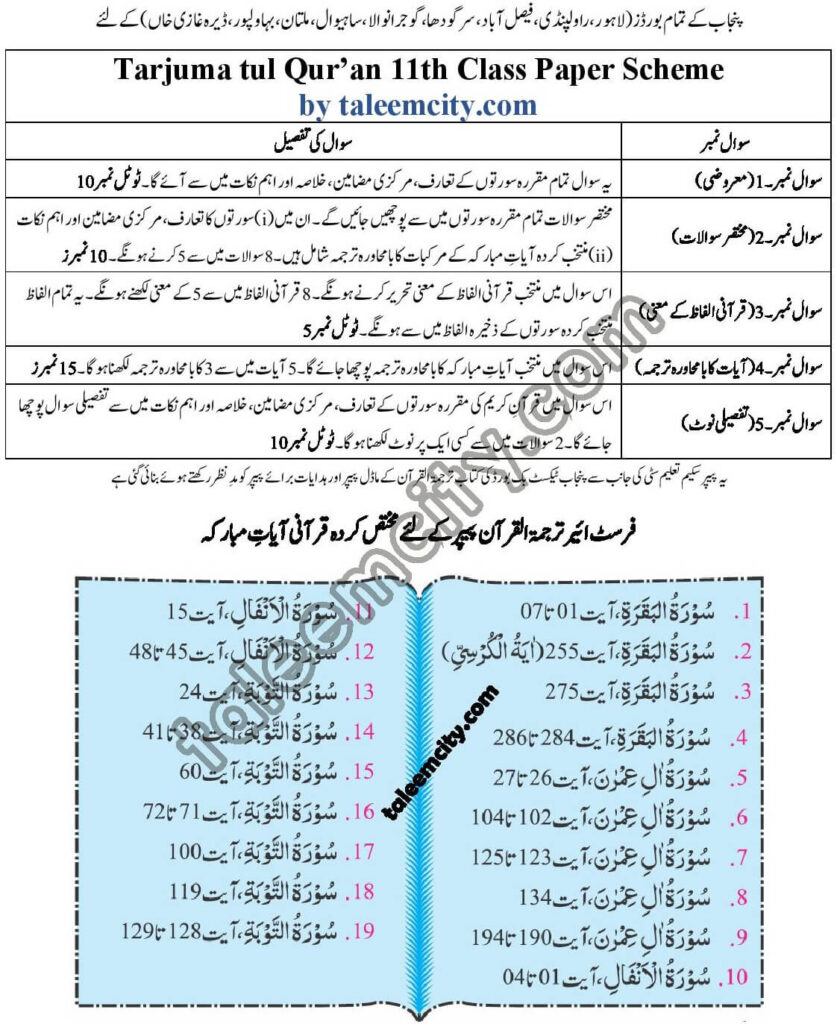 1st Year Tarjuma Tul Quran Paper Scheme 2023
Using a paper scheme will help students complete their exams more efficiently. Through the scheme, they will be able to understand the paper pattern and focus on the most important questions. The following paper pattern for 1st Year Tarjuma Tul Quran Pairing Scheme 2023 is provided for your reference.
Like Our Facebook Page For Educational Updates Taleem City
Despite every effort on the authors' part. The possibility of errors is inevitable. Any suggestions for improving the website would be greatly appreciated. Feel free to leave a comment here if you have any questions. We will respond to you within a short period of time. As a result of our hard work, we hope your friends will also score higher in their 1st-year exams. If you could let them know about our website, we would appreciate it. We believe that "Sharing is Caring".