Are you looking for the 10th Class Computer Pairing Scheme 2023 session? You are on the right page. Here we've uploaded the pairing scheme of 10th class computer science that is equally beneficial for all boards of Punjab. Including Lahore Board, Multan Board, Gujranwala Board, Sahiwal Board, Sargodha Board, DG Khan Board, Faisalabad Board, and BISE Jammu Kashmir. Download the 10th Class paper scheme 2023 or read it online.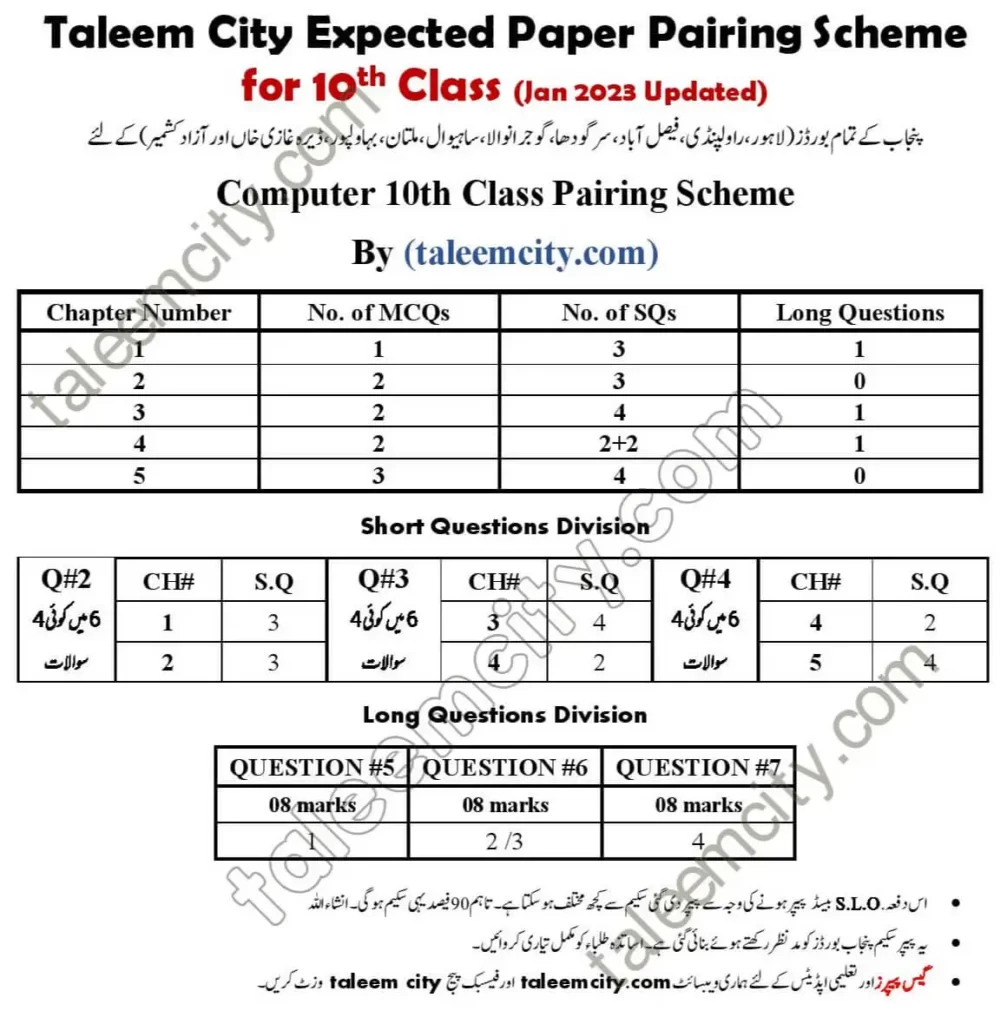 10th Class Pairing Scheme 2023 Punjab Boards
In this book, you'll find five lessons. Each chapter will be discussed in turn. Students will have the opport Chapter to demonstrate their understanding of computer science through the descriptions in the book. By viewing the 10th computer paper scheme you will be able to get a complete idea of the paper
Chapter-1 Introduction to Programming
The chapter title makes it clear that it is a chapter on programming. The course will show you how to program, use IDEs, and introduce you to some basic programming languages. We will cover the syntax and structure of the C language in the following topics.
Chapter-2 User Interface
Throughout this chapter, you will be introduced to the C language's user interface. In this class, you will learn input and output functions in C, as well as the different types of operators.
Chapter-3 Conditional Logic
We will introduce you to the conditional structure in this chapter. The control statement, selection statement, if statement, and some other structures will be discussed.
Chapter-4 Data and Reputation
The following chapter introduces you to basic data structures and loop structures in C programming. You will learn about Arrays, arrays declarations and initializations, and loop structures and syntax.
Chapter-5 Functions
You will become familiar with the C language functions as you read this chapter. It covers function types, function advantages, function structures, and defining functions.
Like Our Facebook Page For Educational Updates Taleem City
Despite the best efforts of the authors. Errors may inevitably appear. So, any suggestions for its further improvement are however invited. If you have any queries regarding this, simply comment here. We will try to answer you in a very short period. And, if you like our hard work then also tell your friends, so they can also get higher marks in the class 10 exam. If you have a query in your mind, then comment it below we'll surely answer it. Share it because "Sharing is Caring".