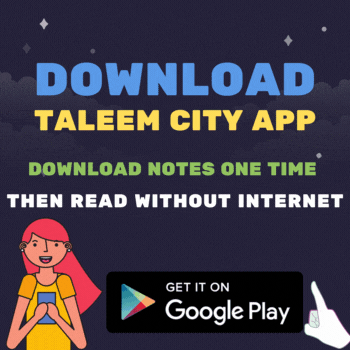 We know you are looking for 9th Class Islamiat notes in PDF. That is why we upload the best quality notes of 9th class Islamiat. These Islamiyat notes are prepared according to the new syllabus of all Punjab boards. These 9th Class Islamiat Notes in Urdu PDF contain complete notes of all the chapters in Urdu. It is the complete solution of the exercise answer questions. You can read these notes online or you can download them as well.
In order to gain a deeper understanding of our religion, we study Islamiat. In Pakistan, Islam is practiced as the religion and we are an Islamic country. We must know about our religion in order to live a fulfilling life. The most significant thing we can do is study our religion. Consequently, Islamiat is a subject that is highly valued in Islamic countries. There is a great deal of interest in this topic in Pakistan. It is important to be careful when studying Islam because it has a vast amount of knowledge.
Quranic Portion - Surah Al Anfaal
Ahadees & Chapter Notes
Syllabus of 9th Class Islamiat Notes
9th Class Islamiat consists of Seven chapters, Surah e Anfal and ten Ahadees (Hadith). The first part known as Maouzati Mutalia consists of four chapters. We provide complete long questions, short questions, and MCQ notes of all these Islamiat chapters.  Surah Anfal notes contain the translation of surah, explanation, Arabic word meaning, multiple-choice questions (MCQs), and short questions with answers. Islamiat lazmi 9th Class Key book pdf.
Ahadees notes contain all 1-10 Ahadees translations, word meaning, translation, short questions with answers, and MCQs with answers. These 9th-class Islamiat notes in Urdu medium are free to download or view online. Our mission is to provide the best quality notes for the 9th class. We uploaded all subject notes of the 9th class. You can also check them. If you find a mistake in our notes then please let us know. If you have any thoughts then comment below.
Like Our Facebook Page For Educational Updates Taleem City
In regards to the Islamiat solved exercises MCQs, short questions notes for the 9th Class, this set of notes follows the new syllabus for Punjab boards. This note is different from those offered by other boards. Boards in Punjab include Faisalabad Board, Gujranwala Board, Rawalpindi Board, Sargodha Board, DG Khan Board, Lahore Board, Multan Board, Sahiwal Board, and AJK Board.
The purpose of these notes was to improve their effectiveness. It is still possible to make mistakes, no matter how hard we try. Anyhow, if you notice them, please let us know in the comments. If you have any suggestions for improving the learning materials, please let us know. Sharing is caring, so we want you to tell your friends about our initiatives because they benefit the entire community.